Message from the Executives
Since our establishment in 1896, Hakujuji has kept pace with the history of Japan's hygiene materials. In anticipation of an aging society, we were one of the first to participate in research and development of adult diapers as well as their commercialization, and we have been making contributions to everyone's health.
We are proud that we are in the healthcare industry. We are strengthening our management infrastructure so that we can improve our product development and quality control. Our goal is to meet the needs and wants of our customers, and for everyone to choose us as a total healthcare company for medical care and nursing care.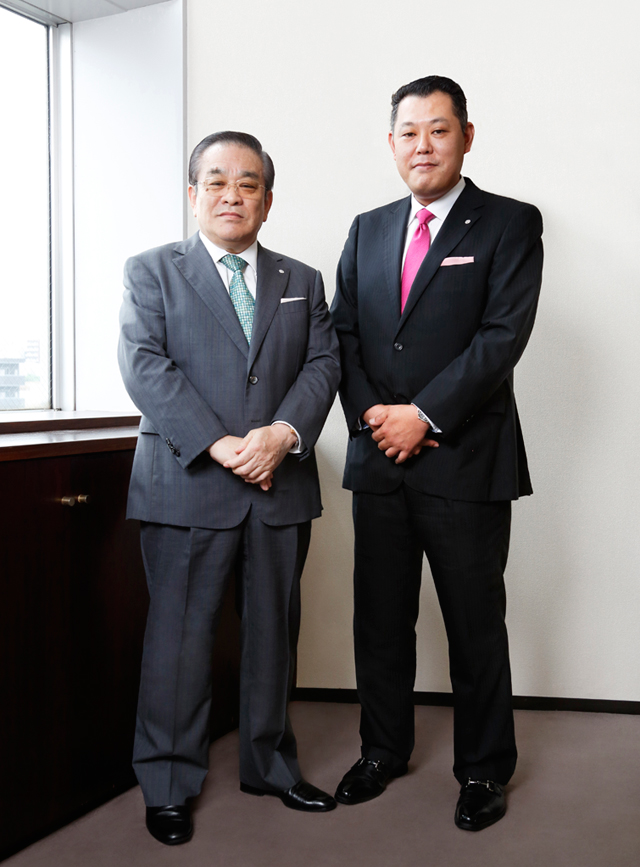 Company profile
Capital
¥100 million
Established
May 1896
Business description
1.Manufacturing, sales, import and export of hygienic goods, purified cotton, wood pulp cotton and wood pulp cotton products, healthcare products, pharmaceutical supplies, medical instruments (sanitary goods, medical supplies and dental materials), quasi drugs, beauty care products and general merchandise; and the handling and sale of measuring and weighing equipment
2.Manufacturing, sales, import and export of cotton wadding for futons and padding material
3.Manufacturing, sales, import and export of nursing care products
4.Purchasing, sales, conversion, leasing, and mediation of real estate, together with the possession, management, and usage of the same
5.All responsibilities incidental to the above
Representative
Chairperson Kazuo Kubota
President Yasumasa Amada
Total employees
About 600
Hakujuji Group
Hakujuji Co. Ltd., Hakujuji Marketing Co., Ltd., Hakujuji Distribution Co., Ltd., Hakujuji Kosan Co., Ltd. Tianjin Xinglin Hakujuji Medical Health Material And Necessities Co., Ltd. (China-Japan Joint Venture)
Financing banks
Mizuho Bank (Takadanobaba Branch), Joyo Bank (Ikebukuro Branch), Shoko Chukin Bank (Ikebukuro Branch), Bank of Tokyo-Mitsubishi UFJ, Ltd. (Takadanobaba Branch)
Affiliated associations
Japan Hygiene Products Industry Association, Japan Hygiene Materials Industry Association, Japan Cleansing Wipes Industry Association, Japan Face Mask Industry Association, Japan Hygiene Paper Industry Association, Japan Medical Supplies Association, Elderly Service Providers Association, Tokyo Chamber of Commerce and Industry, Japanese Society of Medical Instrumentation, Japan Nursing Care Supplies Association
Types of clients
Pharmaceutical wholesalers, medical-equipment wholesalers, wholesalers of beauty care products and general merchandise, commercial establishments, pharmacies and drugstores, department stores, all chain stores, retailers of beauty care products and general merchandise, medical-instrumentation suppliers, nursing care product suppliers, hospitals, national government agencies, local public authorities, pharmaceutical cooperatives, consumer cooperatives, farming cooperatives, and nursing welfare facilities